Work Truck Lights
Creating a safer, more ergonomically lit environment.
Optimized lighting conditions
Grote has spent countless hours studying the difference between "brightly lit" and "optimally lit" environments. We understand the relationship between lighting and human and vehicle performance. It's not just a matter of building a "bright light" – it's a dedication to delivering the "right light" that continues to set Grote apart. We engineer light to meet the specifications of unique environments – optimizing the lighting conditions for the operations to be performed within them.
---
Ground Lighting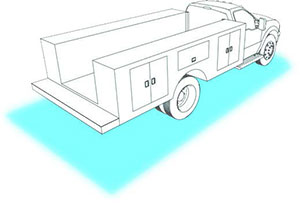 Many manufacturers use incandescent or halogen lamps in this location. These tend to fail quickly due to short bulb life and high heat. This is not an acceptable situation when lives are at stake.
Grote LED lamps are designed to operate for more than 100 times longer, with low heat and low power consumption. Grote Trilliant® LED lamps also offer a high quality light color. The LED WhiteLight™ lamp is much easier on the eyes and provides high contrast at the scene.Grote LED lights in this location are designed specifically to provide great lighting in the perimeter of the truck, while using minimal power. All lights shown would be mounted below the vehicle shining downward, or in a 40° inclination using our mounts shown on pages 17 and 18, designed specifically for this application.
---
Forward Lighting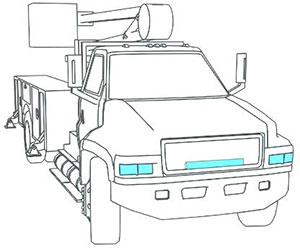 With both 7" round and 5 x 7" rectangular lights available, replace your existing lights with the durable, long-lasting LED lights Grote is famous for. Grote's goal is to keep your on-road safety at the forefront of our minds. These headlights accomplish just that. With the color temperature of LEDs being the most like natural sunlight, these lights decrease light fatigue and provide better detail when compared to standard headlights.

---
Bed Lighting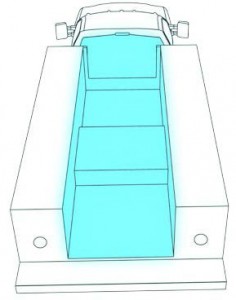 Grote recommends three possible mounting configurations to keep this area well lit.

If the bed is open (no compartment dividers), the Trilliant® 36 LED bulb, Trilliant® Mini, or Rectangular LED light could be recess mounted on the sides. The bracketed Trilliant 36 or Trilliant® LED WhiteLight could be mounted above the front bulkhead shining back, or could be mounted on the rear top wall facing front.

If the bed has compartments, Grote recommends using the Rectangular LED light mounted in the floor, and augmented with the 4" LED or the 6" Oval LED mounted in the front bulkhead.

---
Surface Lighting
For the steps, Grote suggests two alternatives shown below. The Small Round Stepwell light works best with one on each side of the steps. The LED Courtesy Stepwell light is also best mounted on the side of the steps. An added feature of the LED Courtesy Stepwell light is ADA compliance.

---
Scene Lighting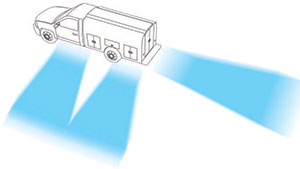 Lighting the scene is paramount! Here Grote really excels. Our Trilliant® LED WhiteLight™ are used for long range lighting and high-powered scene illumination. These lights are on deployment in the Middle East by our troops. When they want to "light up the world," they flip on the Trilliant, and turn night into day.

We have provided a number of patterns for your usage. On the rear of the vehicle (Page 4) the work area lights use only flood / wide flood. To light up a distance, we recommend the Trapezoid or Combo patterns. A pencil beam for long distance viewing would best use the spot.

We have used these in the field and received comments about how they help in forensics as they do not throw heat, and the wavelength is great for visibility.

---
Interior Lighting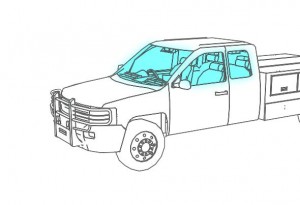 The crew areas are key to maintaining proper lighting. Grote has several options for interior lighting, all of which provide excellent light output, while maintaining low eye strain. Our interior lights utilize a wavelength that is easy on the eyes, while providing great visibility.

The lights shown below can be tailored to the application needs. One option to consider is a dual color LED dome light. These lights are available in Red / White or Blue / White. Using red while driving can help night vision for the responder when he or she exits the vehicle. Having these dual color can allow white while entering, or viewing documents, and red when night vision is most important.

---
Compartment Lighting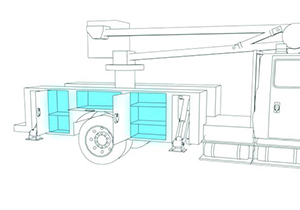 Grote has designed lights specifically to solve these issues. The SlimWhite provides strong light output, and both can be tailored to length. Placing a strip in the corner standing up, can light compartments that have shelves. Placing any of these lights on the ceiling will provide a good solution for compartments that do not have shelves.