Agricultural Lights
When you just can't stop, our lights are ready to go.
Agriculture Lighting Applications
When your customers need to work around the clock, they need lights that are up to the task. Grote has put together a range of lights that are specifically designed for mounting on agriculture equipment. Grote's Work Lighting, Signal Lighting, and Interior Lighting are all available in multiple mount models to ensure a wide variety of uses for even the most difficult of lighting needs. Like all Grote work products, they're rugged, reliable, and powerful. They'll light up the night until the work is done.
---
Overhead Illumination Patterns
Correct lamp selection, vehicle lamp placement, and light pattern selection is crucial to provide the right pattern of light for the job you are doing. These illustrations will give you a good comparison of the different beam patterns available and their general illumination areas.
The illustrations below show a generic view of each of the major light patterns in use today. Specific patterns are determined by light output in lumens, lamp lens, positioning of the lamp on the vehicle, and the technology the lamp employs. LED lamp designs provide the brightest, truest color and the longest life of any lamp technology.
---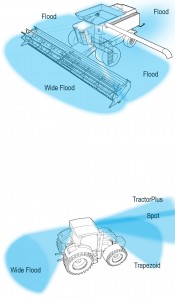 Flood
Good for viewing wide angles at a moderate distance. Use this pattern to see around implements on slow moving equipment. Great for front, rear, and side applications. Optimum mounting height is over 6' off the ground.
Wide Flood
Good for viewing across wide areas but not for long distances. Best for slow work with row harvesters or combines with very wide front ends. Optimum mounting height is over 6' off the ground.
Spot
Good for seeing a specific small area or object far down the field or row. Not suitable for general viewing. Useful for both front and side applications. Optimum mounting height is over 3' off the ground.
Trapezoid
Low and wide light patterns, good for vehicles to use at moderate speed for traveling on roads, paths, or fence rows between fields. Excellent in foggy, rainy, or dusty conditions. Optimum mounting height is less than 3' off the ground.
TractorPlus
Grote Par 36/T36 LED lamp patterns that combine the characteristics of flood and longer range lamps. A good choice for night driving and field work.
---
Led Amber Warning & Red Stop/Tail/Turn Lamps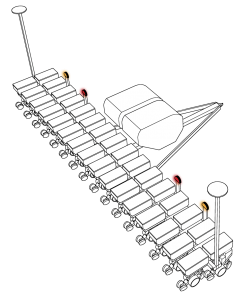 Grote's innovative signal lamps are specifically designed for mounting on agricultural, construction, and other off-highway equipment. The LED lamps incorporate advanced lens optics that increase mounting flexibility, while eliminating the need for extra circuit boards and LEDs specifically dedicated to side illumination. The lamp system includes a double-faced amber warning lamp, a single-side red stop/tail/turn lamp, and a control module that links powered vehicles to towed equipment with application- specific harnesses.
The lamps are available in pedestal and surface mount models. The surface mount lamps can be mounted in single-lamp or dual-lamp configurations, using a custom connector bracket. Either configuration can be mounted in vertical, horizontal, or inverted orientation and still meet ASABE S279 lighting specifications.
All lamps are available with either Packard or Deutsch connectivity.