The Federal Motor Carrier Safety Administration (FMCSA) performs a crucial role in the modern transportation industry, and that is to ensure that the large trucks and buses on the nation's roads are as safe as possible. Yet for the fleet manager, CSA inspections often lead to time off the road and costly citations for the fleet. If you want to limit the number of times your trucks are stopped and improve your overall CSA scores, then you need to make some changes to your fleet's lighting.
How serious is lighting for your company's CSA scores?
Take a look at the chart below: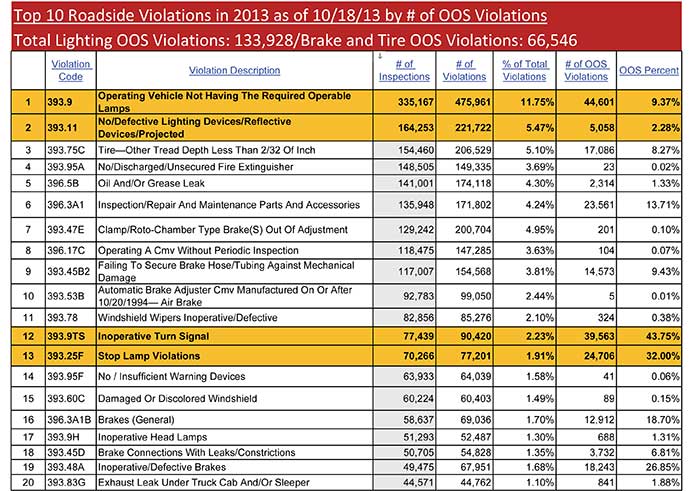 As you can see, for the first ten months of 2013, lighting infractions caused more problems, including Out of Service episodes, than any other category. Why is this? When your trucks are driving with an non-functional lamp, it's like a red flag for inspectors. Once the truck is pulled over, the inspector can spend hours inspecting every aspect of it, leading to further violations and lost time on the road. Overall, this costs your fleet money and impacts your productivity.
The Solution to CSA Lighting Concerns
So what is the solution? LED technology is designed to last longer than incandescent bulbs, which decreases your CSA visibility by limiting lamp failure. Making the conversion from poor-performing incandescent bulbs to improved LED lighting will improve your CSA scores. In fact, at Grote, we guarantee that our LED conversion program will improve your CSA scores in the first year.
Top fleets around the country are making the switch from bulb lamps to LED technology. At Grote, we have created a conversion program that makes this task easier to handle. For those fleets willing to make the investment into the conversion, our team is ready to help with the industry's leading lighting systems that will serve your fleet well for years to come.


Our LED Conversion Helps You Save Time and Money
At Grote, we understand that you must balance your safety and CSA concerns with the budgetary constraints of your fleet. That's why our LED lamp conversion program offers options that make it easier and more affordable to make the switch. If you are not ready to make the switch completely, we have an LED lamp option that looks like an incandescent lamp and connects to the incandescent pigtail. This means less work on your trucks and trailers to make the switch, and also the option to change out failed incandescent with LEDs to make the conversion gradually over time.
If you are ready to convert your entire fleet all at once, we can help with that too. Our high quality LED lamps and diodes are designed to handle the rigors of highway driving without failure, and will outlast any LED or incandescent product on the market. They are more costly than incandescent systems, but the savings you will see through improved CSA scores and less truck downtime far outweigh this initial investment. We also offer the harness and connections you need to ensure a long lifespan for your lamps. In fact, your LED lamps, harness and connections may outlast the life of your trailer when you purchase from Grote, making it a true investment in your fleet, both now and for future vehicles.
Don't let lighting infractions sideline your fleet and increase your costly CSA citations. With Grote, you can make the switch to more efficient and effective LED lighting, protecting your fleet and your budget.
Contact a Fleet Representative Today