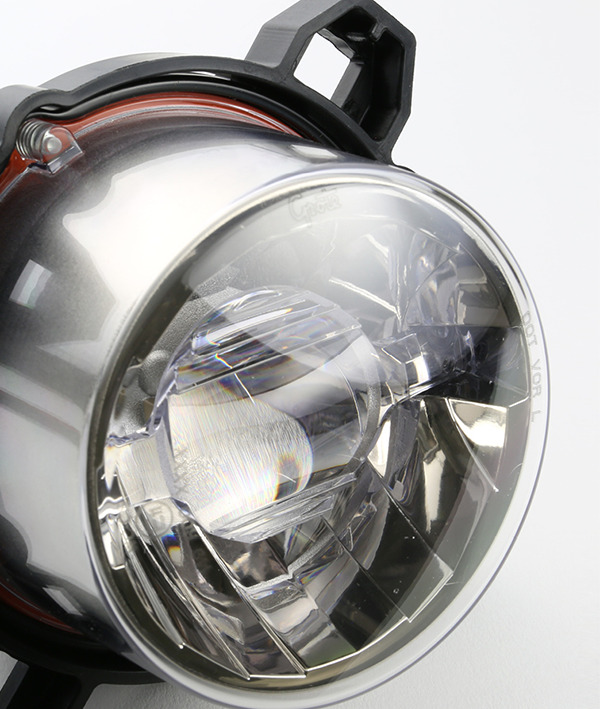 Grote: The Expert in Heavy-Duty LED Lighting
Our customers are continually innovating, developing vehicles requiring more advanced lighting solutions. To support this, Grote is continuously creating new lighting features that are specifically designed to provide optimal visibility, durability, and value, and to be as rugged as the vehicles they are built for.
Grote didn't become the leader of the heavy-duty lighting industry overnight. Years of evolving and perfecting the process have gone into ensuring that "best-in-class" quality is in everything Grote creates.
Known for our innovative lighting technology and advanced LED design for heavy-duty equipment, Grote has the ability to provide solutions from our existing products or work with you for a custom solution.
PARTNERSHIP: From design to production, Grote's team brings a depth of experience and expertise unrivaled in the industry.
Designed for Success
Grote pushes the envelope of design and lighting innovation to maximize customer experience and safety. We put quality, durability, and customer satisfaction at the forefront of our design, ensuring that our products easily withstand the stresses of the demanding environments in which our customers work.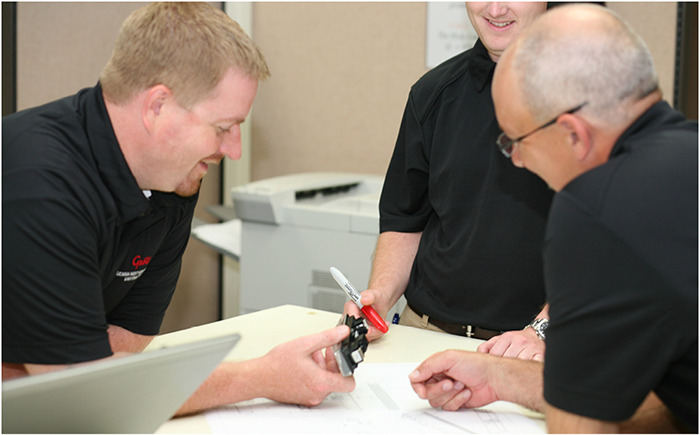 Developing Custom Headlamp Solutions
Signature Lighting Design
Grote brings a team of experts in heavy-duty headlamps to the process of designing and developing custom headlamps. When paired with our best-in-class light engines, proprietary deicing technology, striking signature designs and rugged, durable construction, the result is a solution that is custom-made for your needs.
We can even bring your brand identity into the designs for a more integrated, premium result.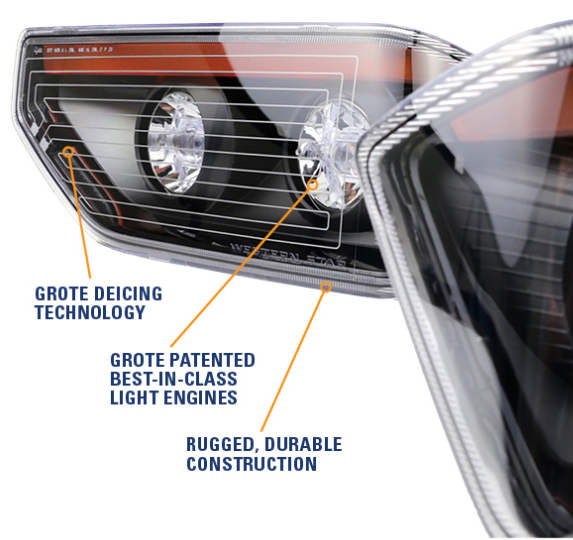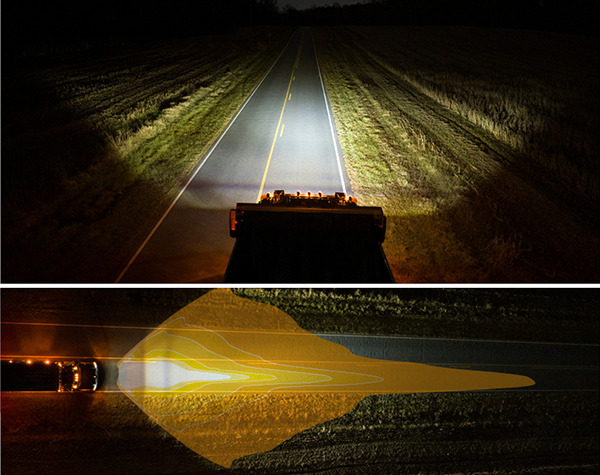 Innovative Prototyping Enables Better Driver Experience
Thanks to Grote's robust engineering and design capabilities, we are able to rapidly develop, test, and prototype our designs. This allows us to conduct night drives early in the development process before tooling is kicked off. This lowers the risk of the project by ensuring that the design and performance are exactly what you need before any money is spent on tooling.
Grote Deicing Technology
Maximize Uptime and Increase Profitability
Lighting solutions from Grote bring you the latest safety technology, including our proprietary design and process for LED headlamp deicing.
An Active Safety Feature
From the moment the driver starts the ignition, Grote's deicing system begins to melt away snow and ice by transferring heat through the lens. This active safety feature makes use of a patented process for creating a thermally conductive trace on the lens.
Uptime is Non-Negotiable
Grote knows the importance of uptime to your customers, which is why we carefully designed our heat grid to melt away layers of snow and ice in just minutes and actively prevent additional ice buildup. This proven system allows increased uptime and safety in the harshest winter environments and provides the driver maximum visibility to stay focused and alert. In humid environments, the grid continues to maximize safety by eliminating condensation, which leads to a safer road for everyone.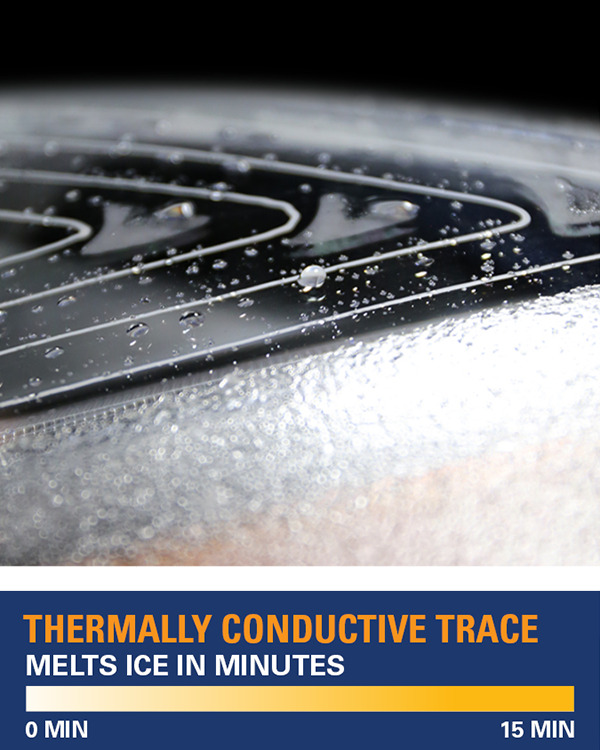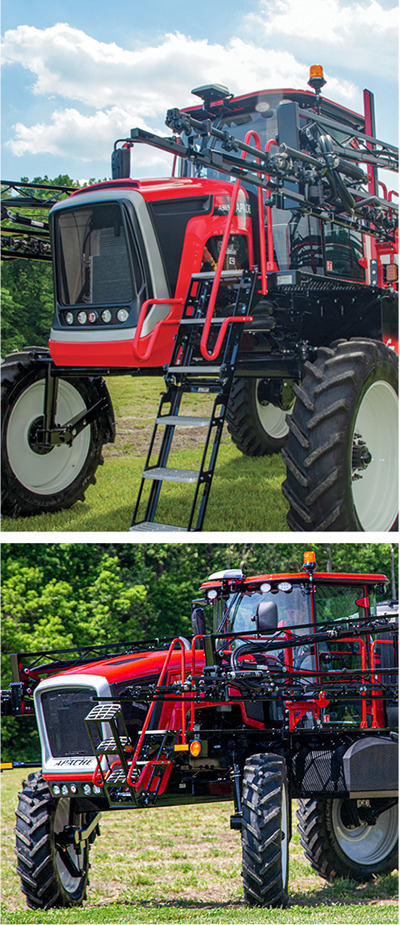 Headlamps for Every Application
Rugged solutions for tough environments.
When you need headlamps and other forward lighting for your off-road application, Grote headlamps are rugged enough for even the toughest off-road use. With a variety of sizes, we can work with you to build the right solution for your equipment.
A Global Headlamp Platform
Our 90mm light engine technology can be used in a wide variety of applications. Grote's patented bi-optic technology features an inner lens and a forward-facing reflector that work in alignment to produce a light output with double the optical efficiency of most benchmarked and documented LED forward-lighting lamps.
With so may choices for both on- and off-road applications, we have you covered with a rugged, custom solution for your forward-lighting needs.


Grote LED work lamps
Grote's heavy-duty LED work lamps are designed to work when needed — rain or shine, day or night, wet or dry — no excuses. Built to withstand the vibration, corrosion, moisture, and dust of the most punishing environments, Grote's LED work lights feature high-strength materials and rugged, durable construction to help ensure your equipment gets the job done.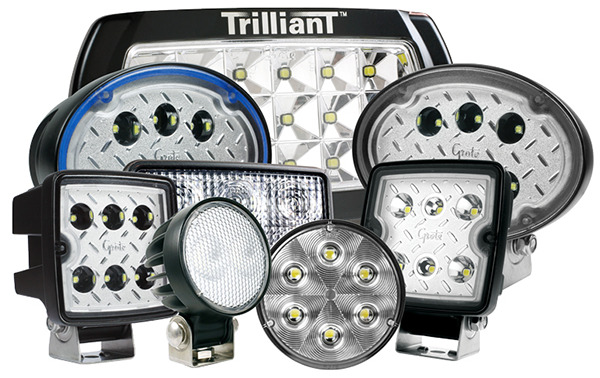 Quality electronic components and Grote's advanced circuit design provide electronically quiet operation, consistent light output, and protection from voltage spikes and electromagnetic interference. To illuminate even the darkest worksites, Grote's premium LEDs produce light with a color temperature similar to daylight, reducing eye fatigue and operator stress.
In addition to the wide variety of available mounting options, connection types, and light patterns, Grote will work with you to develop custom styling and design specifications that exceed even the most discerning customer's requirements.

Grote world-class signal lighting
At Grote, safety is our number one priority. Designed with reliability in mind, our high-quality LED signal lamps bring safety and peace of mind to the worksite. From stop/tail/turn lamps to clearance markers and warning lights, Grote's signal lighting will help your equipment stay visible even when facing low or bad lighting conditions. Our LED technology increases lamp longevity, ensures lower energy usage, and minimizes downtime due to maintenance. Rugged construction and encapsulated electronics ensure that these lamps function in the toughest environments.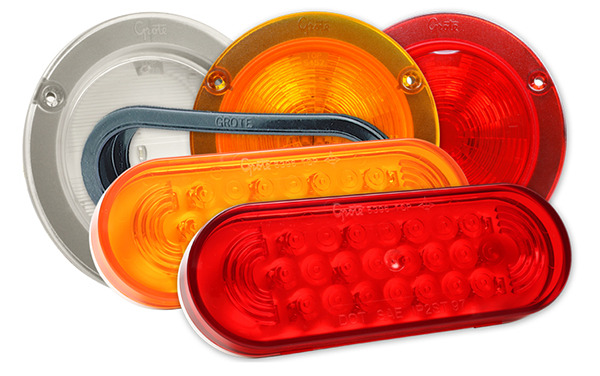 Grote offers a wide variety of LED signal lighting options for many different heavy-duty applications. We will also work with you to develop custom styling and design specifications that meet and exceed your customer's requirements.

State-of-the-art Manufacturing
Grote's innovation in headlamps doesn't end with the design and engineering stage. Since opening in 2020, Grote's Next Generation Manufacturing Center (NGMC), a new manufacturing environment dedicated exclusively to the production of LED headlamp products, has been at the forefront of LED manufacturing technology. Following the debut of multiple successful OE LED headlamp programs, Grote has continued to invest in NGMC, expanding its resources and upgrading its capabilities.
NGMC now boasts additional presses, multiple SMT lines, in-house molding, metallizing, coating systems, and an automated system to apply Grote's proprietary lens de-icing technology. Robotic assembly and highly automated workstations throughout NGMC put a focus on precision, tight tolerances, and strict quality control.
By bolstering our proven methods with better systems and improved equipment we have been able to decrease lead times, reduce risk, and streamline production.

Grote Lighting the Way
Grote is committed to working with you to find just the right solution for your equipment and customers. We have been lighting the way for over 120 years and continue to innovate in lighting technology in ways that make this a safer and more connected world.
Contact your Grote salesperson to learn how we can partner with you for your forward lighting needs.