keyboard_arrow_right
keyboard_arrow_right
LED Lighting Facts Program
LED Lighting Facts Program
Grote is the First Leading Transportation Lighting Company to Join the Lighting Facts Program
Lighting Facts boxToday's lighting marketplace features a growing number of LED products designed for a wide range of applications. While many of these products deliver on their performance claims, independent testing conducted by the Department of Energy as part of their Lighting Facts® program, reveals that some do not. Concerns include low light output, lifetimes that are shorter than reported, and poor or inconsistent color quality.
At Grote we feel that expressing accurately the key information for a lamp we sell is an ethical matter. Now that LED lamps are being sold by many different companies from all over the world, it is more important than ever that the information about LED lamps be as accurate as possible, and be presented in a uniform way so that customers can have dependable and usable apple-to-apple comparison information. For Grote as an industry leader, it's a matter of principle.
That's why Grote is the first major supplier of LED lamps used on heavy transportation and work vehicles to participate in the U.S. Department of Energy's Lighting Facts® program. This program, for the first time, provides a means to present lighting information that is certified by the U.S. Government to be accurate. But we didn't stop there. Grote's R.I.E. LED lighting information system describes the characteristics of our work lamps in the real world working environment.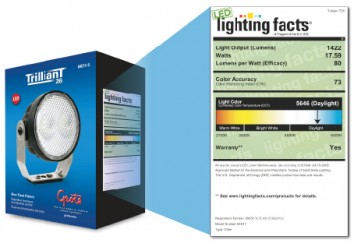 Process
To be a Lighting Facts Partner, Grote signed the following pledge: We (Grote) pledge to support improved quality of LED solid-state lighting products. As a luminaire manufacturer, it is our intent to:
Use the LED Lighting Facts label to provide clear and consistent reporting of essential product performance, measured by industry standard, IESNA LM-79, Approved Method for the Electrical and Photometric Testing of Solid-State Lighting Devices and ANSI C78-377-2008, Specification for the Chromaticity of Solid-State Lighting Products in the following categories:

Lumen output
Luminaire efficacy
Power input
Correlated color temperature (CCT)
Color rendering index (CRI)

Make the label available on product packaging or literature
After signing the pledge, Grote was allowed to submit its white light work lamp technical data to DOE-approved labs for their official verification and certification of the accuracy of the submitted data. Once that process was complete for each lamp, The DOE awarded Grote an official label, which cannot be modified in any way, which was printed on all relevant Grote packaging. This carries the key certified data that can be used by purchasers to make their product choices with confidence.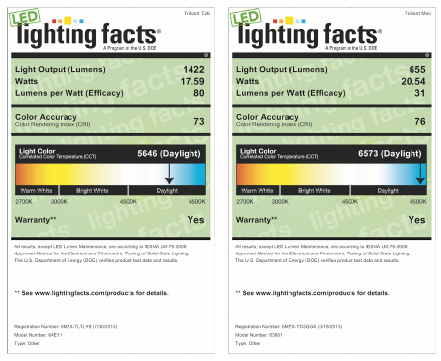 The Label
The DOE-approved labs certify the white light data that then appears on the Lighting Facts label to help buyers choose wisely, providing essential information to evaluate product performance against manufacturer claims. Lighting manufacturers who use the label commit to testing products and reporting performance results according to industry standards in five areas:
Light Output (in Lumens)
Watts (power consumption)
Lumens per Watt (efficacy)
Color Accuracy (based on the accepted CRI index)
Light Color (indicating relationship to actual daylight)
Additional metrics related to reliability, product consistency, construction, and other parameters may be considered in future editions of the label.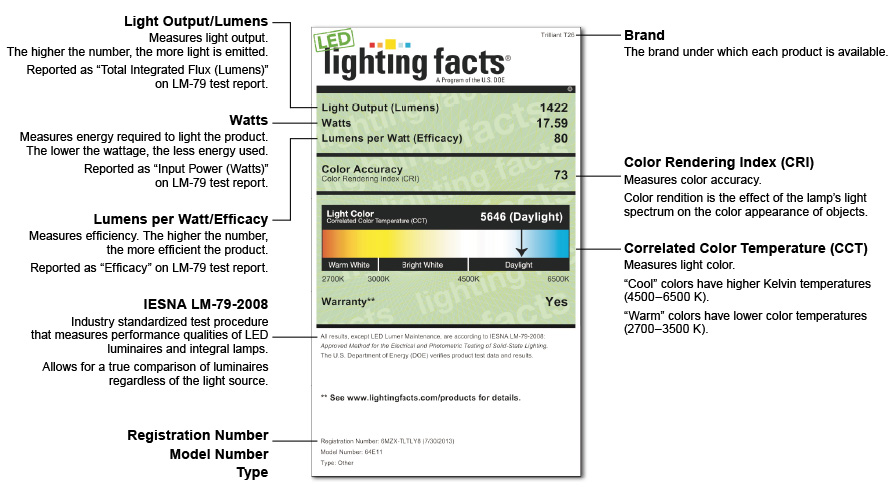 Grote's R.I.E. White Light Program
The DOE Lighting Facts Program is great step forward, but Grote decided to go further.
Grote has devised a new method of describing the white light emitted by LED lamps. Named the Grote R.I.E. System, it reflects the actual way an LED white light lamp behaves and provides a more appropriate way of describing the operational output of an LED lamp. When lighting suppliers try to portray their products in the best light, they often make the mistake of misrepresenting the actual amount and quality of light their white light lamps emit. LED lamps don't perform the way other types of lamps perform.
An LED lamp is brightest when it is first turned on, then as it warms up it emits less light. If a supplier makes a statement that "this lamp is just what you need, it puts out 2500 lumens" the point may be technically correct, but if that measurement is the initial light emitted, the statement is inaccurate and misleading. In order to help solve this problem, Grote has developed our own descriptive lighting system nomenclature that accurately communicates the true characteristics of lamps so users can make informed decisions on the lamps that fit their needs best. Grote now rates its LED work lamps using its new R.I.E. Light Output Measurement System, which gives more accurate and appropriate data than ever before.
It provides three different measurements:
The R in R.I.E. stands for the raw lumens that any given fixture can theoretically produce. Precisely stated, R equals the maximum amount of lumens that each LED diode can produce, times the number of diodes in the device. However, because light output is inevitably lost in reflection, diffusion through the lens, and by vagaries in the circuit board design, there is very little chance that the lamp produces anywhere near the capability of the diodes. This method is highly misleading as a true light output measurement, yet many supply only this value.
The I in R.I.E. stands for the light output that is produced the instant the lamp is turned on. In that moment, an LED lamp is at its brightest. This measurement is also misleading as a guideline for purchasing LED lamps, because LED output will diminish a certain amount until the lamp circuit "settles in" after about 30 minutes of operation. Unlike an incandescent bulb that gets brighter after it has been on for a few minutes, an LED gets less bright as the circuit heats up.
The E in R.I.E. stands for the effective light output that a lamp produces after it has been on for 30 minutes. This third number is the correct number to use to communicate exactly how much light a lamp will put out in a real-life setting. This is the most accurate measurement for LED lamps and the only one a supplier should use when representing the true output of a LED lamp in operation.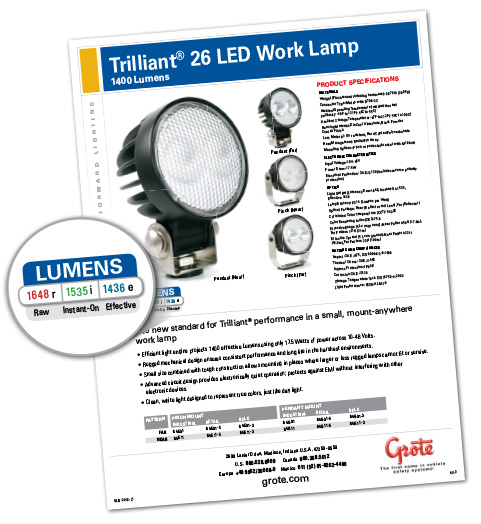 Benefits to Customers
Grote Trilliant Lamps Armed with Lighting Facts and R.I.E information, customers can keep from selecting poor-performing products or products with poor cost/lumen ratios, thus allowing buyers to make accurate, informed choices when evaluating white light products. The benefits of this program are significant and widespread. Grote wants our customers to be able to compare our products to those of competing manufacturers on a level playing field. As other competitors discover and use this process, customers will be able to select LED white light products using accurate information with confidence, to weed out inferior products, and achieve their own price/performance objectives.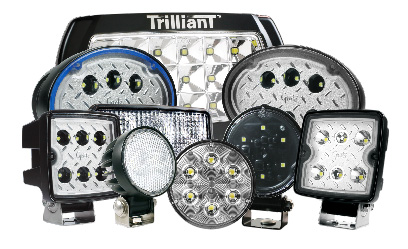 Want to know more? Try our live chat (bottom right corner of your screen) or contact us for more information.