keyboard_arrow_right
Grote LED Bulb Program Includes Solar-Powered Display
Grote LED Bulb Program Includes Solar-Powered Display
Grote's new LED Replacement Bulb Program features a one-of-a-kind, solar-powered merchandising display. New to the market, the display can be placed anywhere inside a retail location with its slim-design solar panel. The panel powers the display using sunlight or a store's indoor lighting. Grote's display holds two of each LED bulb and includes a push-button "try-me" feature.
"This display can be put virtually anywhere," said Grote Vice President of Sales and Marketing John Grote. "The solar panel eliminates the need for an electrical outlet, which provides more placement options for our customers."
The bulbs are designed to replace incandescent bulbs used in a variety of 12V vehicle lighting applications. The complete program includes high and ultra-high brightness options, load equalizer technology, as well as a self-service incandescent interchange, in addition to the display.
"Each individual bulb's packaging is designed with metal contacts, making it quick and easy to touch the package to the front of the display header for instant illumination with the touch of a button," said Grote. "This will show end users the brightness and intensity of the LED bulbs at the time of purchase."
Transitioning from incandescent bulbs to LEDs is not only more energy efficient, but is also a safety improvement. LEDs illuminate significantly quicker than incandescent bulbs, enabling faster reaction time in hazardous and emergency situations. LED bulbs are also more resistant to road vibrations and will last as much as ten times longer than incandescent equivalents.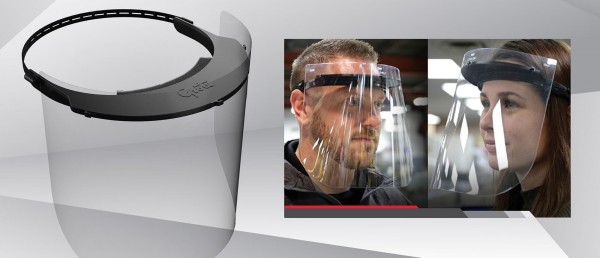 As the world continues to struggle through the COVID-19 outbreak, the supply and distribution of Personal Protective Equipment to some industries and market segments remains erratic. With a clear need for effective safety equipment and a self-imposed mandate to help, the executive leadership team at Grote Industries decided to do something about it.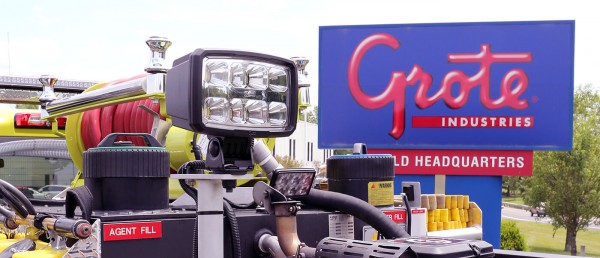 When Will Corwin, Mechanical Engineering Technician at Grote Industries, saw the new vehicle for the Madison Township Fire Department being customized at RKO Enterprises, he noticed something odd. After months of design and construction work, the brand-new 2020 Chevy Silverado was almost ready for action. The only problem was the work lights.