Trilliant® LMX LED Work Lights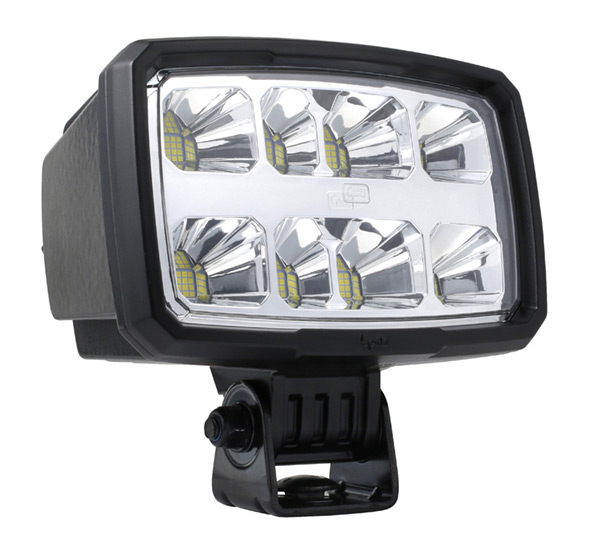 Grote Industries is proud to present our newest line of work lighting, the Trilliant® LMX family of LED work lights.
When you need a bright, dependable light for your toughest jobs, you need Trilliant® LMX. Rugged, versatile, and reliable, Trilliant® LMX can easily deliver all the light that a heavy-duty work site requires. With outputs of 5,000, 6,000, or 7,000 lumens to choose from, these are some of the most powerful lights in Grote's lineup. A color temperature similar to daylight (5700K) means these lights are perfect for night work and will illuminate even the darkest surroundings.
In addition to three brightness options, there are also three different choices of light distribution: Close Range, Long Range, and Close/Long Range Hybrid. "It's not just about how bright a light is," says Pawel Stec, Grote's Director of Off-Highway Sales, "it's about how you distribute that light and illuminate the work area for the job at hand." Grote's selection means that customers can choose the right light for their project, every time. In addition, the fact that Trilliant® LMX lights can operate at a voltage range of 9-32 volts makes them not just extremely bright, but also extremely versatile. With so many options available, Grote has made it easy to choose the light that perfectly fits your brightness, power, and range needs.
Competitively priced, LMX were designed with an eye toward meeting all of a customer's requirements. According to Grote's Global Market Manager – Off-Highway Sales, Randy Staggs, "their compact size makes these lights an excellent choice for customers looking to economize and achieve the same brightness with fewer lights." As a powerful and cost-effective lighting solution, Trilliant® LMX represents a significant extension of Grote's LED work light offerings.
At Grote, quality and durability are two of our most important goals. Engineered and manufactured at our facility in Bogen, Germany, Trilliant® LMX LED work lights are built to stand up to the punishment of any heavy-duty environment. Designed to rigorous specifications, Trilliant® LMX lights feature a rugged aluminum housing and superior thermal design to ensure a long, maintenance-free life. Sealed lamps resist vibration and shock, and an Ingress Protection rating of IP69K means that LMX can withstand even the toughest weather conditions.
Exceeding the most stringent requirements for agricultural, forestry, and construction use, Trilliant® LMX lights can fulfill a multitude of roles on any off-highway work site. Whether it's in the fields or in a building zone, LMX are perfect for hard-duty, all-weather applications where brightness and dependability are key. From the pitch black of an ore mine to the round-the-clock needs of an interstate construction site, LMX will be there to help you get the job done.
When versatility meets power and dependability, the result is Trilliant® LMX.