The Importance of a Fleet Lighting Strategy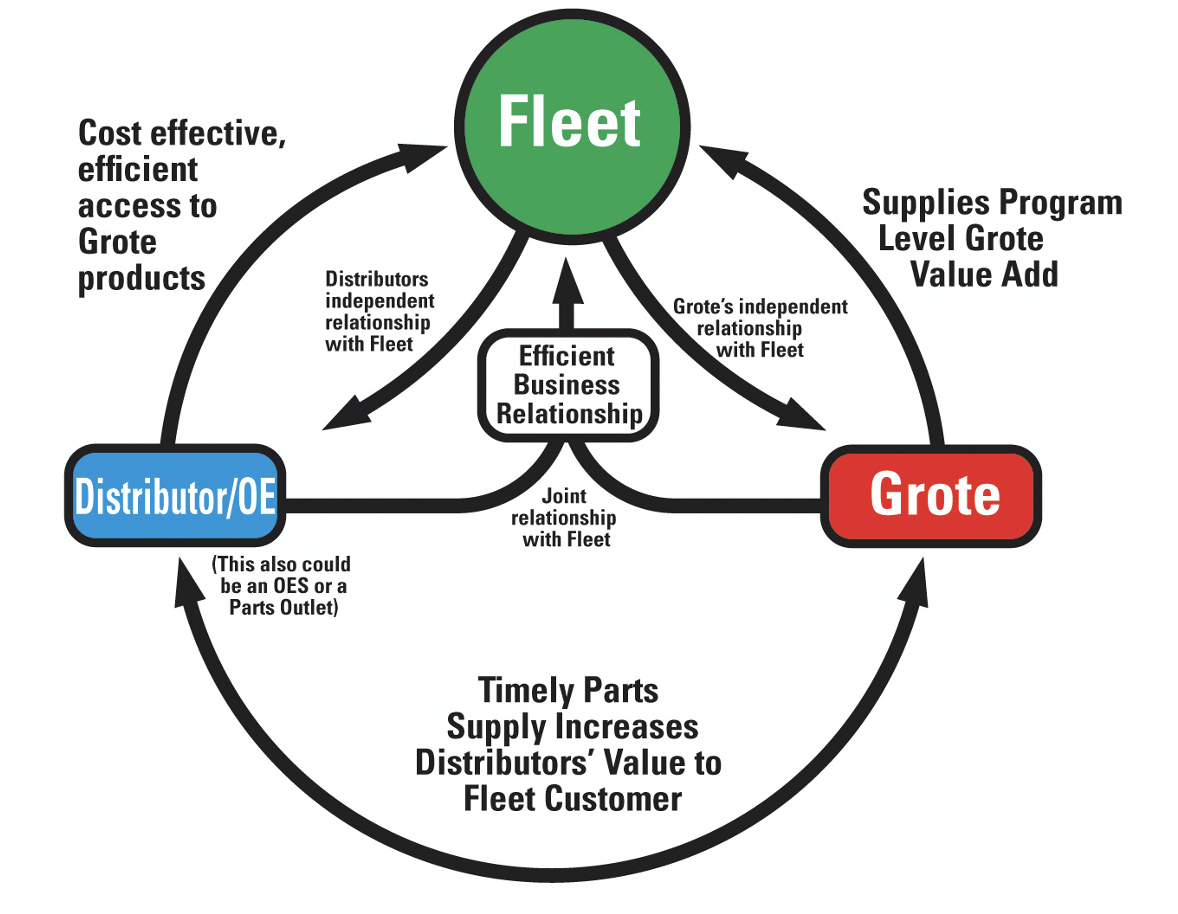 Lighting is one of the transportation industry's biggest concerns, in terms of its impact on safety, CSA violations, maintenance costs, and downtime. At Grote, we want to share our expertise to help make this potentially troublesome area function as smoothly as the rest of your business. By partnering with lighting manufacturers for integrated "nose-to-tail" solutions that embrace new lighting technology and smart systems, fleets can develop a lighting strategy that will streamline their supply chain, cut inventory and maintenance costs, and minimize fines and downtime. Enhancements to the reliability, efficiency, and cost-effectiveness of the fleet's lighting over the lifetime of the equipment can lead to a savings of millions of dollars for some large fleets.
The goal of the heavy-duty truck fleet manager is to maximize safety, productivity, and profitability. The first step in reaching these goals is a comprehensive purchasing strategy. By working closely with a lighting manufacturer, fleet managers can not only reduce costs through bulk purchasing programs, but can standardize parts throughout their fleet, eliminating the time and labor of managing multiple suppliers and thousands of part SKUs. A single-supplier approach can also facilitate the transition to updated and superior technologies, such as the replacement of incandescent lighting with LED lamps.
LED Technology
In terms of cost savings and increased efficiency, the most significant lighting decision facing fleet managers is when to transition fleets to LED lighting. With the sheer number of total lamps in vehicle fleets, and an expected 15-year lifespan of a trailer, switching to more reliable and longer-lasting LEDs from short-lived incandescents can significantly reduce the cost of repair, replacement, and downtime.

A quick review of the numbers illustrates the hidden costs of using short-lived, incandescent lamps. For example, a basic incandescent stop tail turn lamp may only cost $6.00. However, installation costs of about $11.25 ($45/hour @ 15min) and roughly $30.00 of unscheduled downtime ($60/hour @ ½ hour), leads to a total of $47.25. In fact, with incandescent lamps, a 1,000-trailer fleet of long, Class 8 trailers would experience about three failures per day, with the costs and penalties ranging between $50 to $300 per inspection. Combined with the average cost to provide, change, or repair these bulbs, this would cost about $3,000,000 averaged out over the life of the trailers. Compare this with the same trailers utilizing quality LED lamps. With no unplanned maintenance or CSA points, the total cost of about $165,000 would save more than $2.8 million over this same period.
When it comes to tractor-trailer headlights, most are still equipped with halogen or high-intensity discharge (HID) headlamps. As with other lighting, switching to LED technology can provide significant advantages in efficiency and safety. Since LED headlights can last 30,000 hours, or about ten years of service for a commercial over-the-road truck, they can also dramatically reduce the risk and cost of unscheduled downtime to service failed headlights. Because the color of LEDs is closer to that of daylight than the yellowish hue of halogens, it appears brighter and can illuminate details of distant objects better. They also help a driver see more at the edge of the road, where traditional lamps tend to fade out, even on high beam. LED headlights can allow a driver to more quickly and easily spot vehicles, pedestrians, signage, road conditions, and wildlife to prevent potential collisions and driving errors.
If the fleet is not ready to switch completely, some lighting manufacturers offer an LED lamp option that connects to the incandescent pigtail. If the up-front cost is an issue, this can be a viable option, as it means less work on trucks and trailers to make the switch and provides the option of changing out failed incandescent lamps with LEDs for a more gradual conversion.
Outages, Fines, and CSA Points

More than 25% of all CSA violations in the heavy-duty trucking industry are related to lighting outages from inoperable lamps or defective/broken lights. When CSA fines, maintenance, downtime, and repairs are factored together, this represents one of a fleet's largest annual expense items. And those are just the immediate costs of lighting failures. Lighting outages also attract the attention of law enforcement and can trigger further scrutiny into driver logs, brake wear, tire tread, or other issues, which can lead to additional fines and fleet downtime. By putting a comprehensive, integrated lighting strategy in place, managers can not only enhance the safety of their fleets, but also virtually eliminate CSA and other fines as well as minimize the cost of repair and downtime.
Smart Lighting Systems
Because lighting outages can be so costly, forward-thinking fleet managers are turning to technology to proactively handle most lighting outage and maintenance issues. Innovative trailer lighting systems, such as the Grote Guardian Smart System, work with any type of lamp and can be easily integrated into the trailer's wiring harness at the nose box. By continuously monitoring the voltage and current passing through the wire harness, the system's sensors can provide an operator with the real-time status of an entire trailer lighting system via a smartphone app or on-board telematics system. All the status information and any changes are also logged in cloud-based storage for data analysis.
Another aspect of this next-generation system of interest to fleet managers is a "geofence" feature that will automatically upload trailer lighting and electrical system information and send alerts for priority attention, as needed. Geo-fencing allows a virtual geographic boundary to be drawn around a specific location, such as a facility or repair depot. When the geofence is crossed by a tractor-trailer with a lamp or light outage, it can automatically trigger a warning via e-mail or text message to the appropriate personnel. This would significantly streamline the inspection and repair process and possibly prevent fines resulting from overlooked outages. This approach could even allow for automatic electronic ordering of replacement lamps, if desired.

The Bottom Line
With a little guidance from industry experts at Grote, fleet managers can implement a comprehensive lighting strategy to minimize inspections, repairs, labor costs, downtime, and CSA fines, all while staying at the forefront of a rapidly changing industry. Fleets incorporating the best, most cost-effective lighting and systems management technologies will improve fleet safety, productivity, and profitability, leaving their competition in the dark.
Check out our online ROI calculator below and contact your Fleet Representative to get started today.
---