Submersible LED Trailer Lighting Kits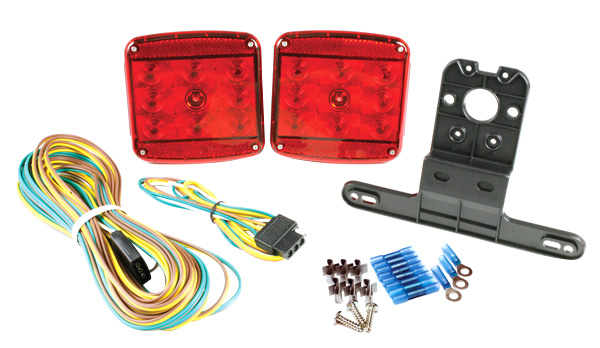 Grote's LED lighting can be used fully underwater on boat trailers with the Grote Industries Submersible LED Trailer Lighting Kits. Available in models with or without clearance lights, these kits contain all of the components necessary to properly light a boat trailer, with a completely submersible, water-tight design.
These lighting kits are designed with boat trailers in mind, but they can also be used on other types of trailers that need a rugged, long-lasting lighting kit. Grote Industries Submersible LED Trailer Lighting Kits can be a great choice for sport utility trailers, horse trailers, motorcycle trailers, camping trailers and other sporting trailers, especially those designed for water and off-road applications.
The design features an easy-to-install, all-in-one stop/tail/turn light as well as the side and rear reflectors to provide optimal visibility. The 4-inch tow vehicle and 25-inch trailer harnesses, license brackets, mounting hardware, and easy-to-follow instructions to ensure the entire lighting system is properly installed are also included. The kits work for trailers that are 80 inches or less in width.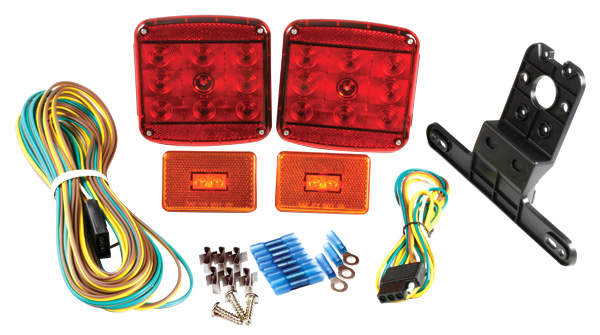 As with all Grote LED products, the Grote Industries Submersible LED Trailer Lighting Kits features Grote's superior LED technology. This technology helps reduce maintenance costs by ensuring a long lifespan for the lights. In addition, the stop/tail/turn lights are available as an individual replacement lamp, so future maintenance does not require a full purchase of the kit.
The popular square-design combination lamps are constructed of durable acrylic, ABS, and polypropylene materials that will stand the test of time, even in rugged work. They are fully waterproofed so they will not take on water when backed into a lake to unload a boat or other watercraft.
If you are looking for an easy-to-install trailer kit and want to provide a durable, long-lasting lighting solution, then Grote Industries Submersible LED Trailer Lighting Kits will fit the bill. Pick up yours from any Grote distributor today.