New 4×6 Sealed Beam Replacement LED Headlights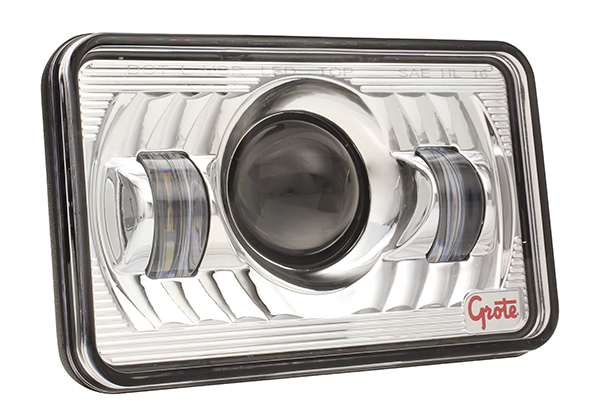 Grote's new 4x6 LED headlights launched Nov. 1 at AAPEX 2016 in Las Vegas. Product will be officially available in early December as part numbers 94421-5 (low beam) and 94411-5 (high beam).
The headlights are DOT compliant and legal for use on all 4x6 systems. Each headlight features a hard coated, UV protected lens that is resistant to high impact, cracking and yellowing.
Low Beam: 630 Effective Lumens, High Beam: 900 Effective Lumens
Compatible with 12V/24V electrical systems
Die Cast Aluminum Housing, Polycarbonate Lens
DOT compliant
LED headlamps are the ideal alternative to your current halogen or HID light sources. LEDs appear brighter to the human eye and are closer to natural sunlight. They also reduce visual fatigue by allowing a sharper view of driving conditions and hazards, which decreases chances for accidents.
For more information about Grote's 4x6 LED headlights and product data sheets, visit our LED Sealed Beam Headlights page.