New 4-inch Round LED Stop Tail Turn with Integrated Back-up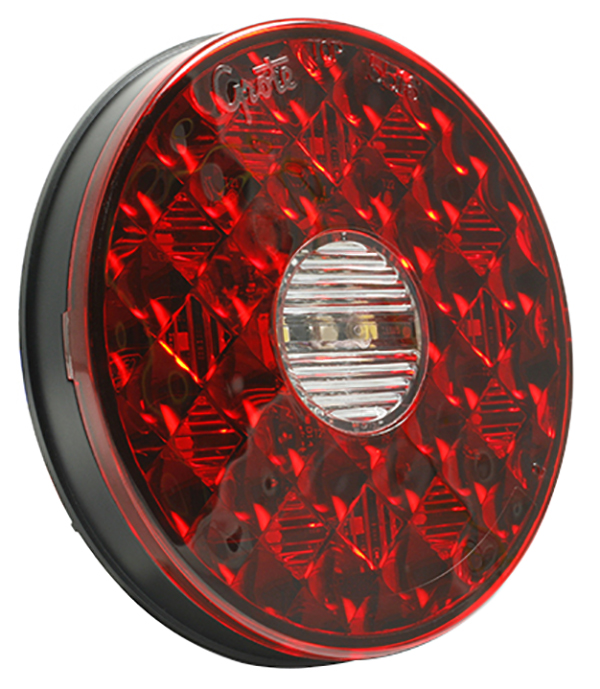 Grote's innovative patented design with four functions in one is your one stop shop for back-end truck lighting needs. This new lamp saves both time and cost on installation and maintenance through the elimination of mounting holes and lamps, inventory, labor, and vehicle leaks.
Grote Industries' new 4-in-1 offers a total LED solution for back-end truck lighting. Just one lamp that fits most existing 4-inch round mounting equipment provides stop, tail, turn and back-up functions, resulting in increased efficiency and reliability.
The lamp is an ideal option for Class 8 trucks as well as other vehicles who already use 4-inch round lights. For an easy retrofit, adaptors for existing harnesses with male pin, three-pin hard shell and female pin connectors are available.
The newest of its kind, Grote's 4-inch Round LED S/T/T with Integrated Back-up Lamp makes the transition easy.
Standard Lamps
4 Lamps 4 Functions 4 Holes in the Body
Grote's New Integrated Lamp
2 Lamps 4 Functions 2 Holes in the Body
Standard Lamps
3 Lamps 4 Functions 3 or 4 Holes in the Power Module or Body
Grote's New Integrated Lamp
2 Lamps 4 Functions 2 Holes in the Power Module or Body