Grote Team Steps Up For Safety
As an industry designated as essential to the Transportation Sector during the COVID-19 outbreak, Grote Industries needed a way to keep their team members safe and healthy while continuing operations. Production Manager Roger Madden was already looking into acquiring reusable masks and filters for more than 400 personnel when he was approached by Environmental Health and Safety Specialist Angie Shuler with an idea. Why not use the CDC-approved instructions and patterns to craft masks and see if anyone was interested in helping make them? Once the idea began to circulate amongst staff, an enterprising group of team members stepped up in a big way to make it happen.
Production workers Karen Lewis, Sandy Young, Debbie Lester, Anita Taylor, Debbie Masterson, and Debbie Keller heard about the initiative and offered to help. Volunteering their time and talent, they set out to tackle an ambitious task; to produce nearly 900 washable, reusable masks, two for each team member. Practicing on scrap material over the weekend to find the most effective and easiest-to-produce pattern, they returned on Monday with a game plan and the means to accomplish it.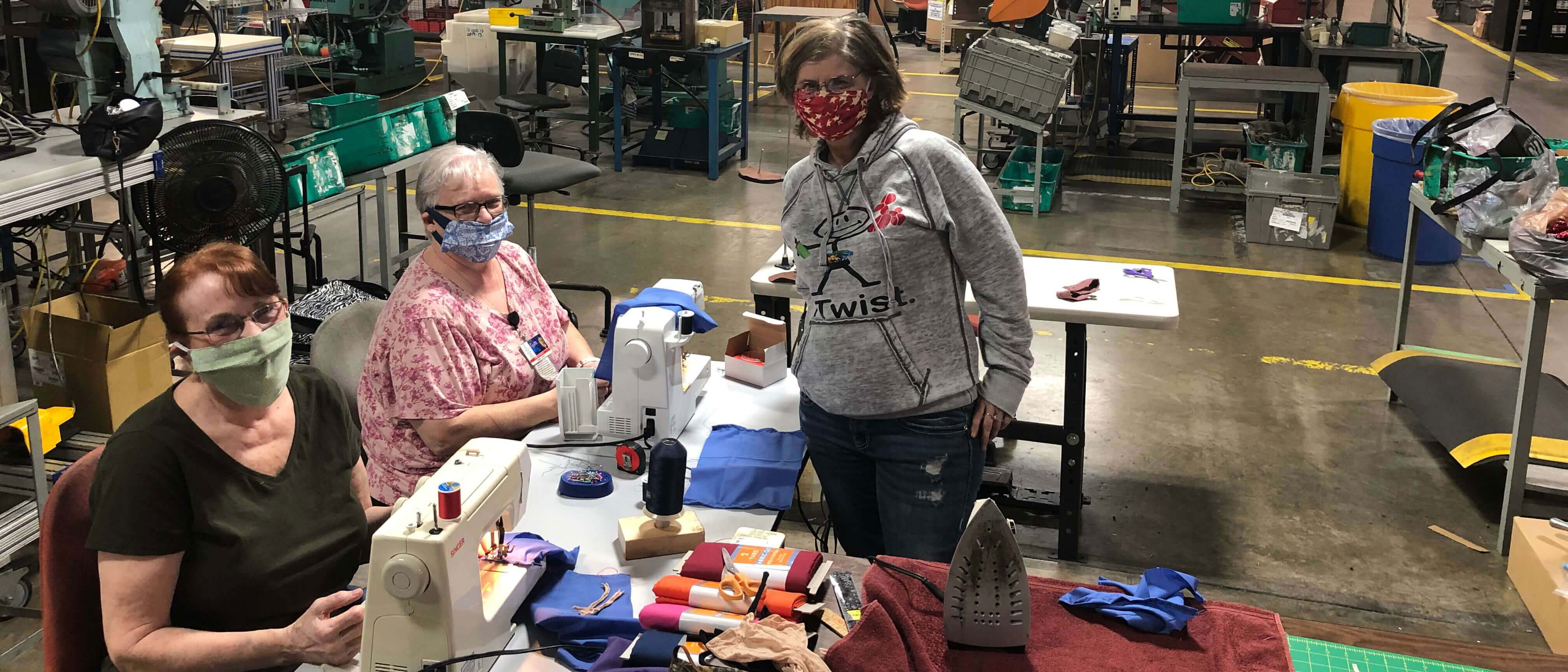 In a workspace commandeered for mask production, the ladies set to work with three sewing machines that they had brought from their homes. One of these, affectionately described by the team as "a beast," is an industrial-grade model belonging to Debbie Lester, who once made and repaired purses and clothing with it. Now it is helping the team to accomplish their goal of producing 50 to 100 masks per day. Their current record stands at 104 masks in one day. The masks are constructed of a cotton material for the face cover with an elastic jersey material for the ear loops. An internal pocket holds the MERV 13 filter material that is carefully cut and inserted into each mask by Anita Taylor. Replacement filters are also being prepared for distribution to Grote team members. Pipe cleaners add rigidity and the ability to contour the masks to the face, creating a more comfortable mask with better protective capability.
In addition to equipping a production line with their own personal sewing equipment, the team also donated supplies. When confronted with the material they were to use, Debbie Lester decided to brighten things up a little. "It was just too plain Jane for Debbie," said Sandy Young, as she described how Debbie brought in a large amount of extra material from home to enliven the selection. "We've got everything from Nascar to frogs to John Deere, IU, the Reds, you name it," said Debbie, holding up a Dale Earnhardt mask. The variety means that team members can choose their masks from a selection of patterns that also include multi-colored dolphins, Scooby Doo, the American Flag, and others. And each mask proudly sports a Grote logo on the front corner. "It makes me feel good to know that people are more likely to wear them if it has a fun design on it," said Debbie Lester.
With more than half of the required number already completed, the team plans to continue working beyond the original goal. "Once we get two for everyone on the team, then if your families need them, we'll make them for your families too," said Karen Lewis. And according to Cesar Perez-Bolivar, Director of Engineering at Grote, once the supply is sufficient to cover all of the team members at Grote, the company plans on donating additional masks and filters to local healthcare workers and first responders. Thanks to the dedication and generosity of the mask-making team, and the support of management, the workforce at Grote and the community at large will be healthier and more secure. "They're doing incredible work and really doing their part to help the entire community," said President and CEO, Dominic Grote. "For me, this is what trust, integrity, responsibility, and respect look like at Grote."