Grote rolls out versatile new forward lighting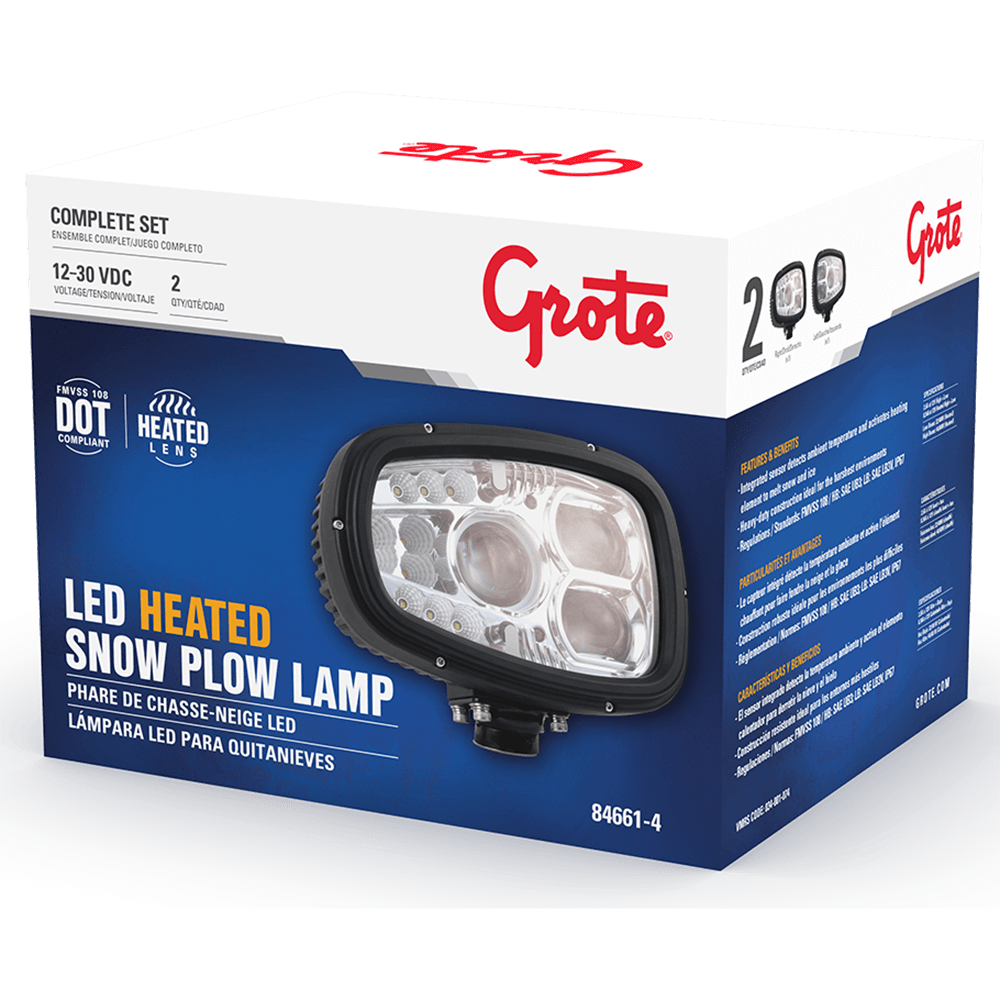 Grote Industries is proud to introduce two new additions to the forward lighting family; the LED Heated Snow Plow Lamps and the LED Combination Head Lamps. Whether you are on-highway or off-road, these lamps deliver visibility, dependability, and performance in a wide variety of roles.
In climates where snow and ice can dangerously impair visibility, Grote's LED Heated Snow Plow Lamps are ideal as cold weather supplemental lighting or as road-legal driving lights when the vehicle's headlights are obstructed. These lamps automatically prevent snow and ice buildup with a sensor that monitors the lens and activates an internal heating element when its temperature falls too low. Designed for the tough conditions facing plow operators, the LED Heated Snow Plow Lamps can be mounted on tractors, ATVs, and other vehicles that operate in wintery conditions.
If you want to add value and versatility to your equipment, Grote's LED Combination Head Lamps are the perfect solution. With these road-legal driving lights, your construction or agricultural vehicle can tackle those tough off-road jobs and then head out onto the highway toward the next field or work site. As supplemental forward lighting, the LED Combination Head Lamps offer powerful high and low beam visibility for your farm, construction, or mining equipment. Built to excel in a wide variety of roles, these lights can handle any heavy-duty application.
Grote products are known for their versatility and durability, and the LED Heated Snow Plow Lamps and LED Combination Head Lamps are no exceptions. Both lamps feature heavy-duty, die-cast aluminum construction and are designed to resist everything from punishing weather to hours of strong vibration. Built with versatility in mind, these lights support a wide range of input voltages, require a low amp draw, and are reverse voltage protected, making these tough lights a smart choice.
Whether you are looking for innovative cold weather driving lights or a rock-solid set of combination lamps to make your off-road vehicle street legal, these rugged headlights will get you where you need to go. And as the newest members of Grote's forward lighting portfolio, these exciting products continue to reinforce our reputation for durability, versatility, and value.