Grote Protective Face Shield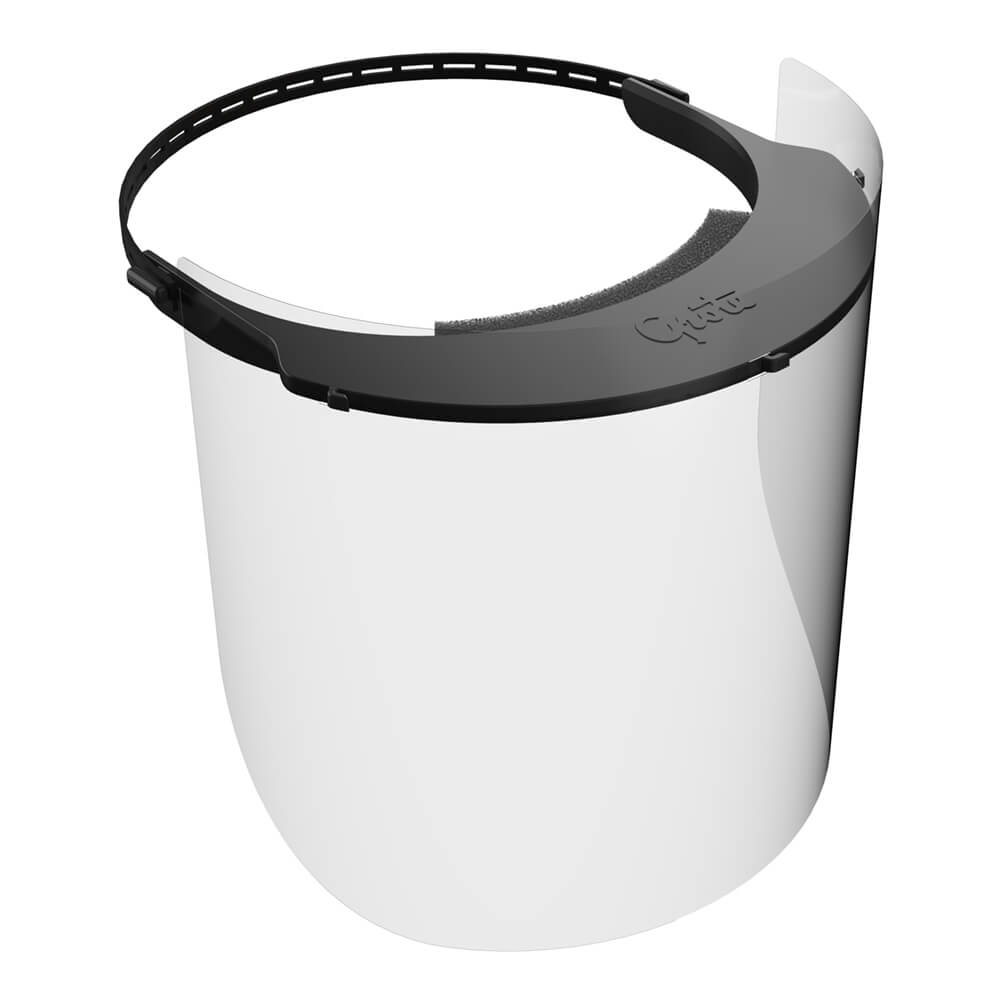 As the world continues to struggle through the COVID-19 outbreak, the supply and distribution of Personal Protective Equipment to some industries and market segments remains erratic. With a clear need for effective safety equipment and a self-imposed mandate to help, the executive leadership team at Grote Industries decided to do something about it. Cesar Perez-Bolivar, Director of Engineering at Grote, was challenged to develop a quality face shield to serve areas of the market that remain unsupported. Thanks to a history of innovation reaching back to 1901 and an unmatched expertise in plastic molding and tooling, Grote was well-positioned to meet this need.
After researching and experimenting with a number of variations focusing on simple, effective protection and ease of assembly, Perez-Bolivar and his engineering team rolled out the Grote Protective Face Shield. The replaceable shield is made of crystal-clear PET, lightweight but strong enough to protect the wearer from spills, spray, and flying debris and features an anti-fog coating to eliminate dangerous fog-ups. The reusable visor is polypropylene based, flexible, and protects against splashes from above while providing extra spacing between forehead and shield. The crosslinked Polyethylene foam forehead cushion allows for comfortable, long-term wear, greater air circulation, and a generally less-confined feeling. An easily adjustable headband made of knitted elastic allows wearers to customize the face shield to virtually any size.
Care for the Grote Protective Face Shield is simple. The replaceable shield can be cleaned with a soft cloth or cellulose sponge and either water or a mild solution of dish washing soap and water before rinsing. Cleaning agents with abrasive content as well as paper towels are not recommended. Dry until moist with a clean soft cloth without rubbing dry. When the shield is in need of replacement, simply disengage it from the visor and install a new one. As for the old shield, PET materials can be recycled in most municipalities.
With this new offering, Grote Industries hopes to lend its manufacturing experience and capabilities to a neglected area of the Personal Protective Equipment market. Businesses and organizations far removed from the backlogged supply chain still need to protect their personnel and Grote wants to be there to help. With the new Grote Protective Face Shield, you can feel safe at your desk, on the job site, or at the supermarket.