A new website for a new decade; Grote Industries launches the new www.grote.com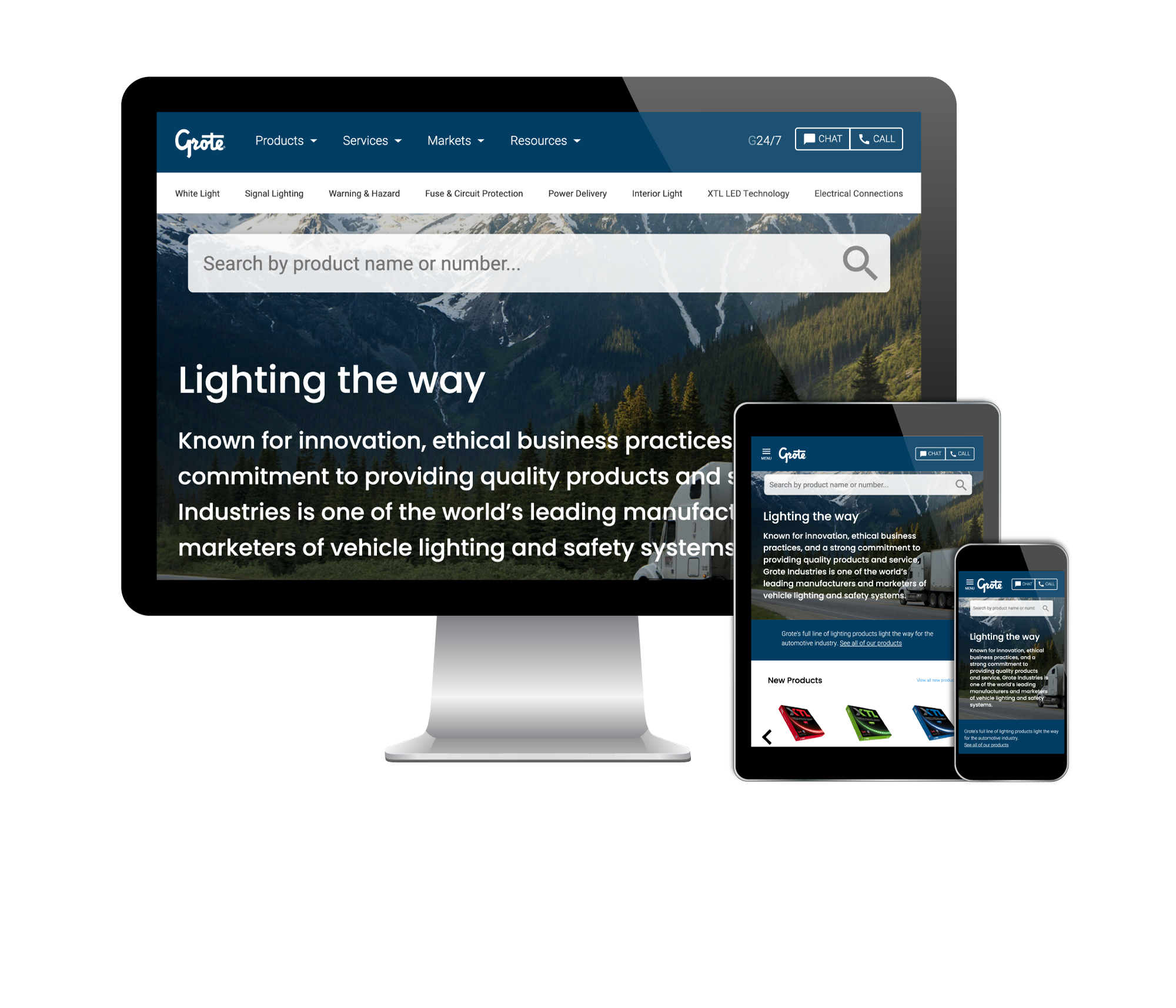 With a host of new and enhanced features, the newly redesigned www.grote.com takes a big step toward making the Grote digital experience the best in the industry. By listening to customer feedback and studying analytical data, Grote Marketing & Marketing Technology Manager, Jessica Lackner and her team have created more than just a showcase for Grote's inventory, they have constructed a platform for solving customer's problems.
As a portal for sharing the insight, information, and expertise of an industry-leading company with our customers throughout the world, www.grote.com has a lot to offer. With features ranging from a knowledge base of frequently asked questions, to extensive how-to articles and videos, to wiring diagrams, and even a live chat feature that puts you directly in touch with our knowledgeable staff, our new and improved website will have the answers you need. Visit our Markets pages to see the industries we serve and how our products serve those markets, with Grote products featured on an array of vehicles from big rigs and tractors, to RVs and golf carts.
More than just a streamlined, easy-to-use website, www.grote.com has been visually and technically refreshed. The site now features a more in-depth, intuitive approach to finding the parts that you need. An improved search function brings greater understanding to each search, with a selection of relevant results appearing immediately as you type. For those who prefer a more leisurely browse through Grote's offerings, products are organized into categories, subcategories, and families, making it much easier to find exactly what you're looking for. Filtering products by their attributes will also allow customers to quickly and easily narrow their results to focus on exactly those products that best suit their needs.
The website relaunch continues Grote's tradition of going above and beyond to deliver the best possible customer experience. As a company that prides itself on giving customers the tools to succeed, the site's new product comparison feature does just that. This function provides users with the ability to select different products and easily compare the technical specs to help decide which is right for them. The results are displayed in an easy-to-read chart that can be exported to PDF format to be printed, emailed, or reviewed. "Our customers will now be able to compare any products on our website to get the best product for any specific application they may have," said Matt Forner, Director of Aftermarket Sales at Grote. And with the website designed to function seamlessly on either mobile or desktop, Grote's entire inventory is always at your fingertips.
At Grote, the needs of the customers are always at the forefront of decision-making. In order to have the freedom and flexibility to respond to those needs, redesigning the website began with building a custom Content Management System from scratch. "Our digital team is small, but passionate about the user experience," said Lackner. "We spent a tremendous amount of time evaluating heatmaps and reviewing analytical data to gain a solid understanding of how visitors are using our site, but more importantly, we spent just as much time sitting down and meeting with our customers to discuss how Grote Digital can support them and what tools we can provide to help them be successful."
At Grote Industries, we are committed to taking care of our customers by ensuring that they receive the information they need, when they need it. As a family-owned company since 1901, Grote has a reputation for delivering the best customer experience in the industry. Now, almost 120 years later, the new www.grote.com will play a key role in helping customers make better decisions, add greater value to their businesses, and anchor Grote's place as an industry leader in the fields of vehicle lighting and safety systems.