Grote Industries Receives Masters of Quality Supplier Award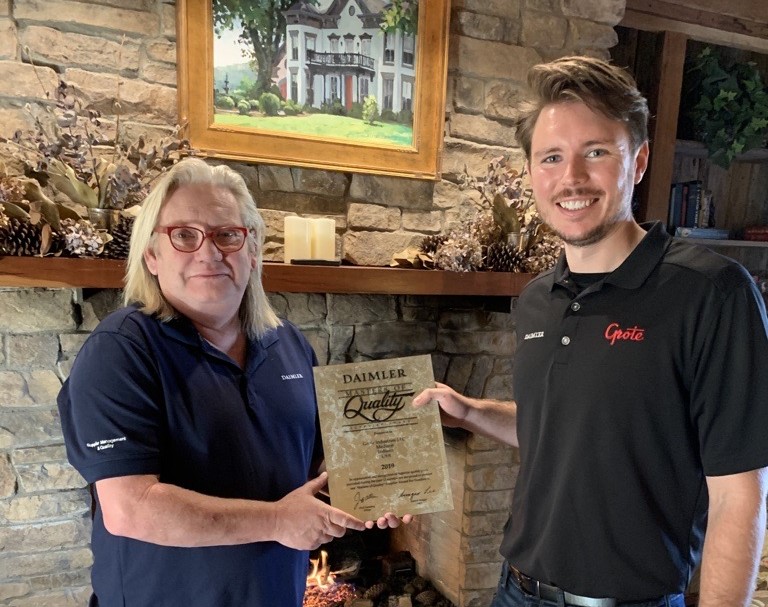 Grote Industries, a leading manufacturer of advanced lighting solutions and vehicle safety systems, was presented with the prestigious Masters of Quality Supplier Award by Daimler Trucks North America (DTNA) in a virtual ceremony today. DTNA, the leading heavy-duty truck manufacturer in North America, annually recognizes outstanding suppliers that consistently earn high scores based on their quality, delivery, technology, and cost performance.
DTNA follows strict guidelines when choosing which companies will receive this honor. Only those suppliers that demonstrate a dedication to continuous improvement of the quality of their products, support to DTNA, and overall performance stand a chance of winning. In keeping with Grote's tradition of quality and commitment to excellence, this is the third Masters of Quality Supplier Award the company has won. According to President and CEO Dominic Grote, "the Masters of Quality is not just about how good our products are or how well they perform for our customers, it's about how we do business. It's the whole customer experience we provide to Daimler."
Because Grote supplies over a thousand different products to DTNA, it is a top priority that quality and customer service are as dependable as the products. "There is no doubt that nearly every global Grote team member touches Daimler in some way," noted Grote's Global Director of Quality Neil Clayton, "and their commitment to the customer has resulted in this well-deserved recognition."
Since the company's founding in 1901, the Grote name has been synonymous with quality. Receiving the Masters of Quality Award from DTNA for a third time further reinforces what is already common knowledge in the industry. The team at Grote are passionate about what they do; and that passion and commitment are what separates them from the competition. In the face of tough challenges from other global brands competing for this accolade, Dominic Grote sees the Masters of Quality as a clear sign of what Grote has to offer. "This award is really a full business review," he said, "and a true reflection of how we perform. I am so proud of our organization for getting this recognition." As the relationship with DTNA and other major OEMs continues to grow, Grote looks forward to continued opportunities to cement the title of Master of Quality.