Grote Industries Opens Next Generation Manufacturing Center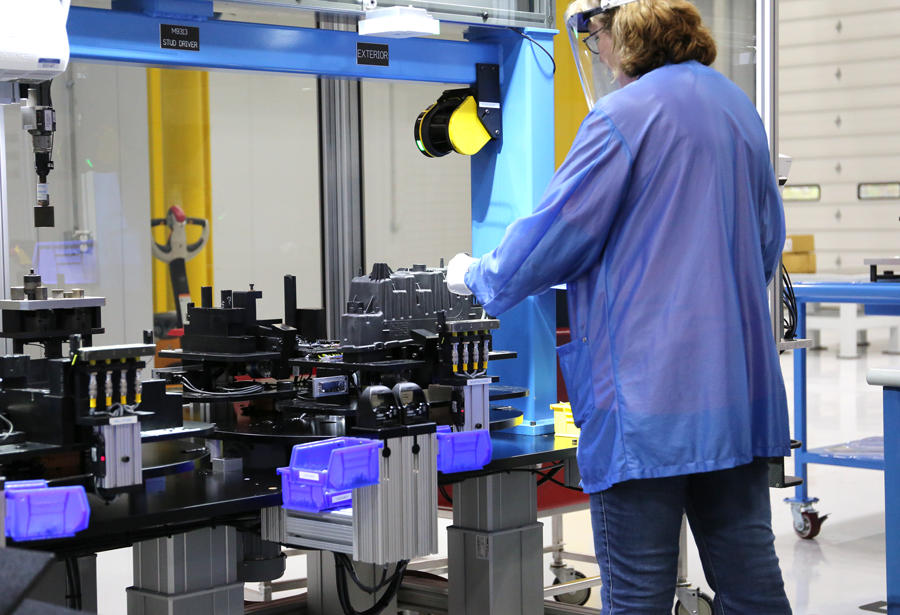 Grote Industries announced the grand opening of their newest production facility – the Next Generation Manufacturing Center (NGMC) – at a ceremony attended by Grote team members and visiting dignitaries. The event featured remarks by Grote President and CEO Dominic Grote, Madison Mayor Bob Courtney, Indiana Department of Workforce Development Commissioner Fred Payne, and Congressman Greg Pence. Guests then toured the state-of-the-art facility where Grote produces LED headlamps.
Located at their world headquarters in Madison, Indiana, NGMC is a high-tech manufacturing environment built specifically for Grote's newest venture; the production of LED headlamp platforms for major Original Equipment Manufacturers of heavy-duty trucks, commercial vehicles, and off-highway equipment.
Starting with a clean sheet of paper, Grote designed the new facility from the ground up to exceed customer expectations and to ensure the LED headlamps produced here would ultimately create a superior driver experience when operating a big rig at night, especially in poor weather conditions.
By consolidating the LED headlamp manufacturing process, from molding through to assembly, in a single location, NGMC serves as Grote's LED headlamp production headquarters. Construction of this new manufacturing facility was begun in late 2018 and completed at the end of 2019. Designed to optimize one-piece flow, the facility features 1,500-ton injection molding for large components and 250-ton injection molding for smaller parts and accessories. Utilizing state-of-the-art equipment and processes such as inline metallizing, robotic assembly cells, and a secondary line that applies proprietary de-icing technology to lenses, Grote can build products that meet exacting customer needs and last over 1 million miles.
While NGMC is the manufacturing and assembly center for Grote's LED headlights, it is also the integration point for several other Grote core capabilities. One of these unique capabilities is the design and production of its own electronic LED modules in Waterloo, Canada. The LED light engines are then married with the headlamp's optics system engineered and tested in its Madison headquarters.
According to President and CEO, Dominic Grote, "the opening of the NGMC and the launch of our first LED headlamps with Grote's innovative de-icing technology are paving the way for Grote to become a major partner to our OEM customers." To this end, the NGMC is a facility dedicated to Grote's future as a world-class headlamp designer and manufacturer. The facility's modular walls allow for expansion as new products are added, while an advanced air management filtration system and precision temperature and humidity control eliminates contaminants and maintains the environment necessary for high-tech manufacturing.
Global Vice President of Sales and Marketing, John Grote, sees NGMC as a logical extension of the company's core business. "This new facility gives us the ability to fulfill the needs of major headlamp programs with the quality and reliability that Grote is known for." Success in their initial LED headlamp ventures showcases Grote's tradition of technological excellence, as well as the Grote family's desire to seize new opportunities for growth. Dominic Grote is happy to list the challenges that the company overcame to make NGMC a success. "Our team worked tirelessly over the last couple years to get the facility up and running," he said, with a hint of pride, "all while successfully launching a headlamp program for a major OEM with the first commercially available de-icing technology for an on-road heavy truck application in the middle of a pandemic." With Grote's position as a rising player in the LED headlamp field opening doors for upcoming headlamp opportunities, the future for the company is looking very bright.