2018 Electrical Connections and Accessories Reference Guide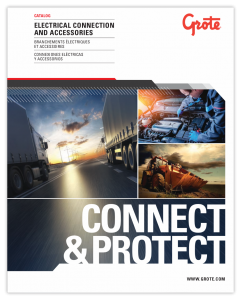 Grote is pleased to announce the release of our new 2018 Electrical Connections and Accessories Reference Guide.

This new master accessory reference guide continues Grote's commitment to expanding our product offering while continually improving your sales, inventory and service tools. A major effort to update technical information and product images will help you select the best product that is best suited for a specific need or application.
With the addition of over 200 new products, Grote now has over 2,500 SKU's in stock and ready to ship. Grote has invested a lot of time and resources to continue as a major partner in supplying OEM quality, competitively-priced products to the aftermarket and OEM industries. The timing couldn't be better to introduce this new master Accessory Reference Guide to team up with our expansive Lighting, Warning & Hazard, White Light and Harness product offering.
Some key highlights include:
Major expansion of:

Power Cord and Delivery Products
Coiled Air, 3 in 1's and Air Line Accessories
Electrical Switches
Relays and Replacement Pigtails

Introduction of:

Fuses, Fuse Holders and Circuit Protection Products
Deutsch Terminals, Tools and Kits
Installation and Repair Tools and Kits
Retail and Merchandising Displays and Plan-O-Grams
For additional copies, contact your local Grote Technical Specialist and/or our Customer Solutions Group at 1-800-268-5612 (part number 56-9513-53).