Section 6 Making Connections
Mastery Statement
When you have successfully completed this section, you will have mastered:
The Grote product numbering system
Selecting incandescent and LED replacement lights
Selecting products to service UBS
The competitive part number interchange
A working knowledge of the SAE Lighting Identification Code, the Replacement Lens Chart, Sealed Beam Chart, Bulb Chart and Warranty sections.
Grote Know-How & How
So far, we've discussed the basics of electricity and vehicle lighting. We've reviewed the types of prod- ucts available for lighting and wiring. We've even touched on techniques for installation and repair.
Now, let's consider how to quickly locate the cor- rect product for each task using the Grote Reference Guide.
The Grote Product Numbering System
Grote uses a meaningful product numbering system that makes it possible to quickly locate the correct product, and verify that the correct product has been selected.
Here's the format of a typical Grote product number: 41022-4. It's five digits, followed by a hyphen, followed by a single digit.
The first two digits are the product category. For example:
62 stands for back-up lamps
11 stands for brackets
12 stands for small mirrors
G Hi Count™ LED Lamps
01-09 Per Lux Lamps and Accessories
10 Mirror Arms
11 Brackets
12 Small Mirrors
13 Junior West Coast Mirrors
16 Large West Coast Mirrors
18 Automotive Mirrors
20- 24 Junior West Coast Bracketry & Assemblies
22 Large West Coast Mirrors
26 Large West Coast Mirror Assemblies
28 Mirror Specialties
35 Rubber Insulated Clamps
37 Ultra-Connectors
40, 41 Reflectors and Conspicuity Tape
43 Guards, Mounting Brackets & Permit Holders
44 Flashers
45-47, 49 Clearance and Marker Lamps
48 Turn Signal Switches
50-59 Multi-Function Stop/Tail/Turn Lamps, Rear Lamp Modules & Center High Mount Stop Lamps
60 License Lamps
61 Dome Lamps
62 Back-up Lamps
63 Flood Lamps
64 Tractor & Head Lamps, Quartz & Halogen Lighting
65 Boat Trailer Kits
66-69 Wiring Harnesses & Pigtails
70, 71 Triangle Flares, Driving Cones, Warning Devices
72 Automotive Horns
73 Back-up Alarms
76, 77 Roto-Beacons & Strobes
78 Warning Lamps
85 OE Type Repl. Lamps/Lenses
87 Ultralink Power Cords
90-92 Lenses & Lamp Components
99 Miscellaneous Accessories
In the front of the Grote Reference Guide, you'll find a complete listing of all product categories like above. For the example used here, 41022-4, category 41 stands for reflectors and conspicuity tape.
The second two digits are the product number.
There are many marker lamps in the Grote line. This number distinguishes one from another. In our example, 41022-4, reflector 02 is a three-inch reflector.
The fifth digit indicates variations in color and finish. If it's a lamp or reflector, this digit tells you the color. If it's a mirror, this digit tells you the finish of the mirror housing. In this case,41022-4, "2" stands for a reflector that is red.
0 Split Color
1 Clear
2 Red
3 Yellow
4 Green
5 Blue
1 White
2 Black
3 Chrome or Stainless
4 Aluminum
5 Zinc
The last digit, the one to the right of the hyphen, is optional. Some product numbers have it. Some don't. When it appears, it describes the way the product is packaged. In this case, the 4 indicates that the product comes packed in pairs. If there is no hyphenated digit, the product comes packaged in a poly bag. For a complete list of packaging codes, visit our part numbering guide.
Lighting The Way
There are a number of tools available that will help you in your efforts to obtain the correct part for every application. Grote offers the following aids:
Reference Guides
Technical Bulletins
Website (www.grote.com)
G-Force Newsletter
These tools are especially useful in learning about product specifications, application informa- tion, installation tips and troubleshooting. Here are some examples of how you can use these tools to solve problems.
How can I find the correct replacement for a stop light?
Use the Grote Reference Guide. Use the table of contents, color-coded thumb index to find the category "Stop, Tail and Turn Lamps." Use the information in that section to determine type of lamp you need. Does it mount flush on the body? Attach by a bracket, or mount on a fender?
Once the lamp has been identified, there may be a choice of colors, bulbs or amperage. The data that accompanies the illustration and specifications will guide you through your selection.
At times, you 'll also find a choice of materials. Polycarbonate lenses, for instance, are tougher than acrylic lenses. If your application is for a ruggedduty vehicle, this might be an important factor.
Follow the same process to locate replacement lamps of all types as well as wiring products, lenses, flashers, turn signal switches, reflectors, lenses, and mirror products.
How can I make sure I 'm selecting the correct wire?
In the back of the Grote Reference Guide, in the "Technical Information" section, you 'll find a section regarding "Wire Data". After reading the information, use the charts on the next page to determine the correct wire size based on amperage, length of wire run and ambient temperature. There's also a chart that will help you to determine the insulation requirements based on SAE standards.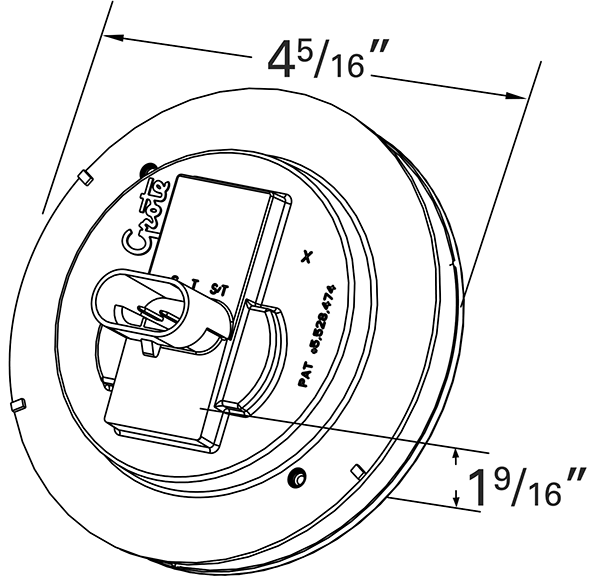 How can I make sure the product will fit?
Products in the Grote Reference Guide feature line drawings and dimensions wherever they might be needed to ensure that your product selection will fit properly. Take careful note of items like the fixture depth and the spacing of mounting bolts or boltholes. This feature is a great time saver and eliminates the hassle of returns.
How can I tell when an LED version is available?
Many truckers and fleets are upgrading to LEDs whenever they have to replace an incandescent fixture. You 'll always know when an incandescent lamp is also available as an LED by looking for the yellow "Available in LED" icon in the Grote Reference Guide.
There are a number of these helpful icons in the Reference Guide. Some call attention to new products and those that have been undergone significant improvement. The tractor symbol indicates that the product is appropriate for agricultural use.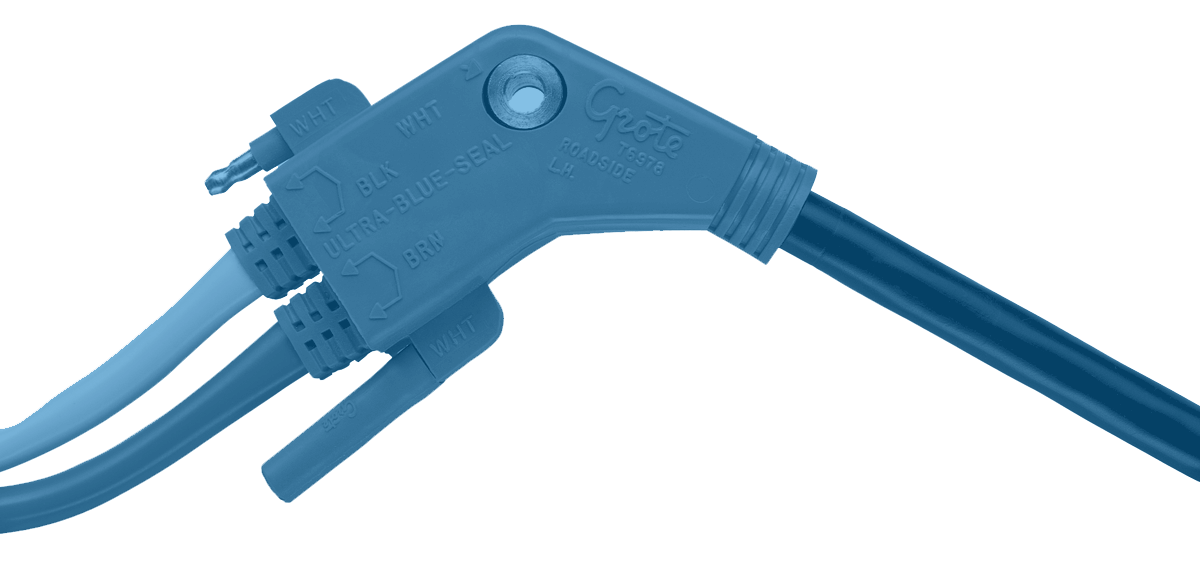 How can I select the correct products to service a UBS cable system?
Begin with the UBS illustration at the beginning of the "Trailer Wiring/Communications" section. This shows a schematic layout of the UBS system and helps you to see which products are used and where they 're located.
On the following pages, you 'll find wiring harness diagrams, wiring color codes for commonly used cables, as well as product descriptions and dimensions that will help you to select the correct UBS accessory.
How can I make sure my vehicle is in compliance with federal regulations?
In the back of the Grote Reference Guide, in the "Technical Information" section, you 'll find a chart titled "Basic Equipment Required On All Trucks, Buses and MPVs."
This color-coded chart will help you to sort through the required use of lighting, reflectors and conspicuity surfaces.
What do the coded designations on each lamp lens mean?
In the back of the Grote Reference Guide, in the "Technical Information" section, you 'll find a chart titled "SAE Lighting Identification Code." This contains excerpts from the latest SAE specifications which explain the meaning of these codes. Alert service technicians will want to be aware of these codes to
make sure that damaged units are replaced correctly.
Can I find the correct Grote replacement product based on a competitive part number?
Yes. In the back of the Grote Reference Guide, in the "Technical Information" section, you 'll find a complete competitive part number interchange. Grote applications are divided into two sections. In column 2A, you 'll find the Grote part that most closely matches the finish and design of the competitive part. In column 2B, you 'll find Grote parts that match the competitive part in function and mounting, but differ in appearance.
How can I find the correct replacement lens for a lamp?
There may be times when a lens has been damaged, but the rest of the lamp fixture is still serviceable. In this case, you have two options. You may check the product information section, or look in the back of the Grote Reference Guide, in the "Technical Information" section. You 'll find a chart titled "Replacement Lens Chart" that will help you to determine which replacement lens to use for any serviceable Grote lamp.
How can I tell if this product is covered under a warranty program?
In the back of the Grote Reference Guide, in the "Technical Information" section, you 'll find complete details regarding all Grote warranties. It includes contact information for warranty returns and how to obtain replacement products.