keyboard_arrow_right
Grote Adds Mossy Oak® Camo Light to BriteZone Line
Grote Adds Mossy Oak® Camo Light to BriteZone Line
If you are a hunter, fisherman, or simply like to spend time outdoors, Grote has the light for you. Premiering at Heavy Duty Aftermarket Week in Las Vegas, is Grote's Camouflage Go Anywhere LED Work Light (BZ511-5). The light mirrors the existing BZ501-5, with an authentic Mossy Oak® Camouflage finish.
"We are excited to expand the product range of our BriteZone™ LED Work Lamps in order to add more options for consumers who need greater flexibility in both mounting and usage," said Grote Business Development Manager Joe Weingardt. "This extension will help meet the needs of more individualized applications in our industry."
Two mountable lights are also premiering in Vegas as additions to the BriteZone family, including the Small Round Work Light (BZ111-5), as well as the Rectangular LED Work Light (BZ551-5). Both can be installed and used in a variety of applications, such as industrial, recreational, and home.
"Since we launched BriteZone™ we have been grateful to receive high praises for our work lamps' go anywhere, flexible designs," said Weingardt. "We are now offering more choices for our customers and end-users, including taking the lamp from our most popular, battery-powered handheld lamp and offering it as a stand-alone light, the BZ551-5."
Grote's new BriteZone™ lights range from 1100 to 1600 lumens, making them an ideal, price conscious solution for a wide variety of lighting needs. Product will be available for shipping on March 1.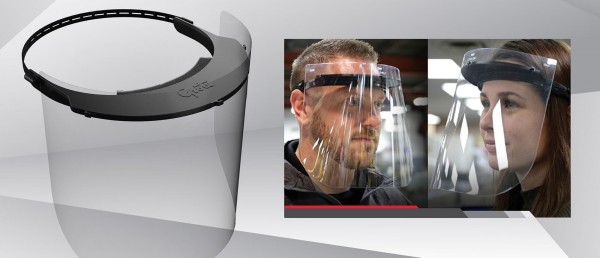 As the world continues to struggle through the COVID-19 outbreak, the supply and distribution of Personal Protective Equipment to some industries and market segments remains erratic. With a clear need for effective safety equipment and a self-imposed mandate to help, the executive leadership team at Grote Industries decided to do something about it.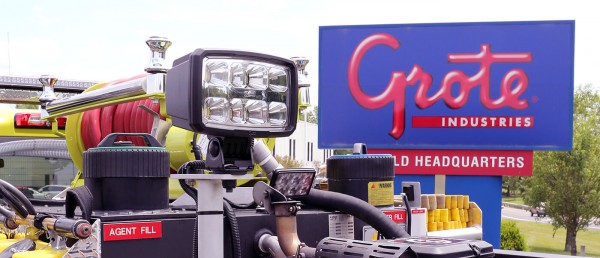 When Will Corwin, Mechanical Engineering Technician at Grote Industries, saw the new vehicle for the Madison Township Fire Department being customized at RKO Enterprises, he noticed something odd. After months of design and construction work, the brand-new 2020 Chevy Silverado was almost ready for action. The only problem was the work lights.